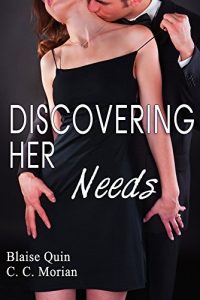 Steam: Steam Level 4
Janet's first marriage was a disaster, and her rebound relationships more of the same, all sex and no love. She promised herself that if she finally settled down it would be for all the right reasons. When she met Mason, she thought she finally found who she wanted to be with, a good, supportive man. So what if their love life wasn't so wild? She'd been there, done that.
Mason's no wimp, but he does enjoy watching other man check out his sexy wife. It's his little secret, just something to pass the time when he's at some boring work event with Janet. But when he witnesses Janet running into ex lover Brad, he's stunned by her reaction—and his own.
Janet is amazed at how her revelations to Mason about what she did with her old boyfriends spices up their love life. It's just harmless fun, right?
Until she meets up with Brad again, this time on purpose.
Not only for her, but for Mason.
(This is a standalone book that is part of the Her Needs Series, stories about women who discover—and succumb to—their unfulfilled needs.)
Get Discovering Her Needs: A Hotwife Discovered Story (Her Needs Series) by C. C. Morian, Blaise Quin at Amazon
Have you read this book or another by this author? Tell us about it in the comments!