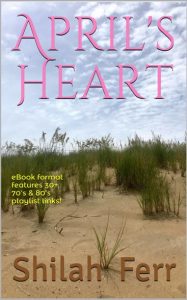 April's Heart by Shilah Ferr
Book is bargain priced from 08/23/2020 until
Steam Level : Steam Level 3
About April's Heart
Cheerleader April Schweiter navigates life and love through her turbulent and sexually charged romance with her boyfriend, Mitch Hudgins, the love of her life. Is he the love of her life? April really doesn't know.
Although they are finally a happy couple, April and Mitch decide to break up due to the fact they will be attending different schools in different towns far away from each other. But they find they cannot resist one another, moving on seems impossible. Are they meant for each other? Or just not meant to be?
This is the story of young love, hot and heavy, full of unanswered questions, heartbreak and triumph. Hold on to your pompoms as April and Mitch develop a surprisingly passionate, albeit on again, off again relationship. It isn't easy. But it was that particular passion that guided, or misguided them for years to come!
What makes this ebook particularly fun and unique is the almost 40 Spotify music links on all the songs in the story, bringing the reader right to the moment! So cool! And since it is set in the eighties, the music is KILLER!
Buy Book here Check book price before you buy, as prices can change due to expiration of the sale or other technical issues.
Is this book no longer priced under $2.99? Let us know in the comments! Have you read this book? Tell us about it in the comments!