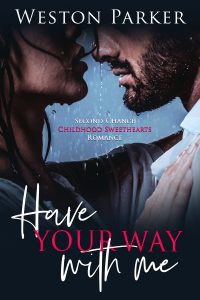 Steam Level: (Ranked from 1 to 5, as noted by the author): Steam Level 5
0.99 from Jan 26-Jan 28
No one makes me feel like he does.
Which is some shit, considering he ran to the military the minute he graduated high school. Something about living his dreams.
Guess I wasn't included in that dream.
But I moved on from my brother's best friend and started a life of my own.
Now it's time to reconnect with family, and the last person I expect to see his him.
Grown up. Strong. Ripped with muscles. Hot as hell.
It's not just about butterflies and childhood wishes. I'm drowning in grownup fantasies and passion I didn't know existed.
I should give him the finger and turn my back, but I can't.
Five words rush around my mind every time I see him now: have your way with me.
It's time for a second chance. A last chance. My only chance.
Get Have Your Way with Me at Amazon
Have you read this book or another by this author? Tell us about it in the comments!
All information in this post was provided by the author and is not altered. We do this so that you the reader can decide to buy a book based on what the author says and how they present themselves and their book.