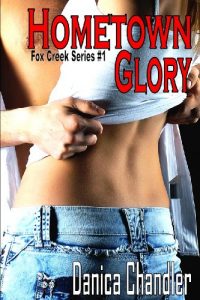 Steam: Steam Level 4
Jace Cooper always hated Fox Creek. Guilty by association, he took the blame for a crime committed by his friends one wild night four years ago. Recently paroled, he returns to his hometown, unsure of why he came back. With most of the town pulling up their welcome mats and closing the door on him, he has to find the one reason he wants to stay. Was it the familiarity? Was it his desire to rekindle broken relationships with family and friends? Or was it Annie Martin, his ex-girlfriend he left broken hearted? Reunited for the first time after all of those years, they discover intense sexual passion, igniting new feelings Jace has never felt before. Is it lust, or is Jace Cooper falling for Annie Martin? He must make a decision – stay in Fox Creek and act on what he is feeling, or go to a different town where no one knows his name or his past.
Get Hometown Glory: Fox Creek Series #1 by Danica Chandler at Amazon
Have you read this book or another by this author? Tell us about it in the comments!