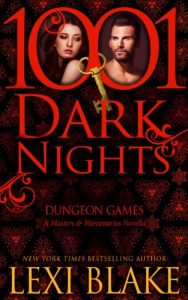 Steam: Steam Level 5
From New York Times and USA Today bestselling author Lexi Blake comes a new story in her Masters and Mercenaries series…
Obsessed
Derek Brighton has become one of Dallas's finest detectives through a combination of discipline and obsession. Once he has a target in his sights, nothing can stop him. When he isn't solving homicides, he applies the same intensity to his playtime at Sanctum, a secretive BDSM club. Unfortunately, no amount of beautiful submissives can fill the hole that one woman left in his heart.
Unhinged
Karina Mills has a reputation for being reckless, and her clients appreciate her results. As a private investigator, she pursues her cases with nothing holding her back. In her personal life, Karina yearns for something different. Playing at Sanctum has been a safe way to find peace, but the one Dom who could truly master her heart is out of reach.
Enflamed
On the hunt for a killer, Derek enters a shadowy underworld only to find the woman he aches for is working the same case. Karina is searching for a missing girl and won't stop until she finds her. To get close to their prime suspect, they need to pose as a couple. But as their operation goes under the covers, unlikely partners become passionate lovers while the killer prepares to strike.
**Every 1001 Dark Nights novella is a standalone story. For new readers, it's an introduction to an author's world. And for fans, it's a bonus book in the author's series. We hope you'll enjoy each one as much as we do.**
Get Dungeon Games: A Masters and Mercenaries Novella (1001 Dark Nights) by Lexi Blake at Amazon
Get Audiobook
Have you read this book or another by this author? Tell us about it in the comments!