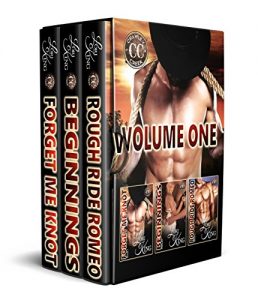 Steam: Steam Level 4
In a small town in North Dakota there resides a family of misfits on the Crawley Creek Ranch. Brought together by hardship, and heartache they've bonded without blood ties, and seek to help others. Four brothers who've walked both sides of the line, and come out stronger for it, but will they survive love, loss, and the law?
Bundle 1 Contains:
Beginnings
Abraham and Seraphina Crawley have loved each other since they were fifteen years old. Abe has never doubted the strength of their bond, and together they've planted roots and built a successful ranch. But when Seraphina receives disturbing news that will impact the rest of their lives, she finds herself unable to tell the man she loves…
Forget Me Knot
Lacy Denvers' dream vacation to the Crawley Creek Cattle Ranch turns into a lesson in patience when the North Dakota winter proves unpredictable as ever. Wrapped in a cocoon of snow, Lacy finds the ranch to be a hidden treasure trove of cowboy eye candy, and her mouth is watering even as her brain is telling her to run.
Will this vacation into the heart of cattle country turn out to be a mistake, or will Lacy and Drannon find their future in each other?
Rough Ride Romeo
A petite brunette with a feisty temper, and a playboy ranch owner who has no plans to settle down. Closing the gap between these two wounded souls could mean surviving tragedy. Will their determination to hide their pain from themselves be their downfall, or will they come through this rough ride together?
Get Crawley Creek Ranch Volume 1: Forget Me Knot, Beginnings, and Rough Ride Romeo! by Lori King at Amazon
Have you read this book or another by this author? Tell us about it in the comments!