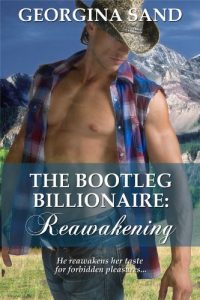 Steam: Steam Level 5
When good girls go bad, they're gone forever…but when they go with him, they're gone for the better…
The Bootleg Billionaire: Reawakening — the first part in an erotic romance series about whiskey, stolen diamonds, buried treasure, uber-hot sex and a good girl who discovers that being good is a total bore.
Hannah Montgomery is a good girl who's settled for lukewarm passion with her boyfriend, the town veterinarian. That is, until Matt MacFarland returns to town and stirs up her X-rated memories of their sexy nights together. Matt MacFarland is the kinky youngest brother in a family that earned a fortune through cattle ranching and selling moonshine during the prohibition years. Used to getting what he wants, he took Hannah's virginity years before, and introduced her to forbidden pleasures that changed her forever. Now that he's back in town, he's determined to have much more than that from her.
When their passion explodes once again, Hannah realizes that Matt has given her a taste for the unusual that only he can satisfy. But will the attraction between them be powerful enough to overcome the secret of the Rumrunner Mines and allow them to embrace true and everlasting love?
The Bootleg Billionaire: Reawakening is a contemporary erotic romance that is the length of a novelette, or about 60 pages. Erotica has a long history of celebrating the short form. I'm excited to be able to offer this work as a free romance. Enjoy.
This story is part of The Bootleg Billionaire series.
Get The Bootleg Billionaire: Reawakening by Georgina Sand at Amazon
Have you read this book or another by this author? Tell us about it in the comments!