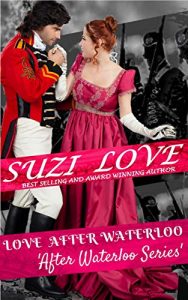 Steam: Steam Level 4
When Lady Melton and her son, Daniel, are forced to join antagonistic Captain Belling and the last group of wounded British soldiers evacuating Waterloo and traveling back to London, she expects clashes with army deserters, both French and British.
What she doesn't anticipate is how much she and her son will need the belligerent Captain after they reach London. Can they build a life together despite his wounds and her dead husband's family?
Get Love After Waterloo: Book 1 After Waterloo Series by Suzi Love at Amazon
Have you read this book or another by this author? Tell us about it in the comments!