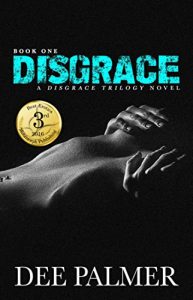 Steam: Steam Level 5
This contains intense dominant and submissive role play and dark erotic romance, mystery and suspense. Be warned.
"5 out of 5 'Tie me up so you can free me' Stars" Country Girls Sexy Reads Blog
"HOLY SMOKIN' HOTNESS …this is the "steamiest" of them all" The Smutbrarians
"Disgrace: I gave this book 5 freaking hot stars! Oh My Goodness!!! …I thought I was going to have call the to fire department because my kindle was on fire!" Hooked on Books Blog
DISGRACE
This is the story of Grace, a woman who barely survives a heart wrenching childhood and an abusive first relationship. She leaves home on her eighteenth birthday, changes her name (Sam) and starts a new life.
A chance meeting with Leon sets her on a path to become Queen of the London urban BDSM club scene. As Mistress Selina, she can bring any man to his knees without so much as a crack of her whips.
A taboo one-night stand at a friends wedding with Jason becomes so much more than she bargained for.
Jason Sinclair, is the dominant alpha male sex club owner and king of kink in the London sex scene. Rich and possessive, he secretly buys the club where she works to protect what he sees as his. His proposition is simple – he wants her to submit to him.
But "Two Doms don't make a right. We would not play well together." Our sassy heroine has been hurt before: Can she risk it all again?
As the two start this erotic dirty romance together, Sam's past comes back to haunt her. Their future is filled with danger and uncertainty.
Can the two overcome all to have their extraordinary HEA?
This is adult themed steamy romantic erotica, with explicit sexual content and BDSM club scenes. These erotica stories are part of a contemporary hot erotic trilogy but Disgrace can be read as a standalone.
Get Disgrace (The Disgrace Trilogy Book 1) by Dee Palmer at Amazon
Have you read this book or another by this author? Tell us about it in the comments!