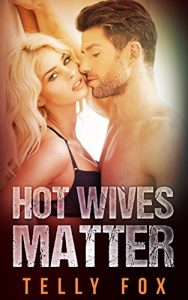 Steam: Steam Level 5
If a wife satisfies her husband in every way possible, in and out of the bedroom, shouldn't she be satisfied too? Don't her desires matter?
On the surface, Ted and his hot wife Brenda are a happily married couple who appear to have it all … but appearances can be deceiving.
Brenda is withholding a dirty secret from her past that could potentially disrupt their relationship.
Meanwhile, Ted has some secret desires and fantasies of his own that Brenda doesn't know about.
Will Ted be able to set his ego aside and allow his wife to fully reach her sexual potential? And how is he going to react when he discovers that his wife is willing and able to explore all possibilities … her fantasies and his as well?
Warning: This book is a hot and filthy erotic short story with a wife sharing twist. If you like steamy scenes with all the dirty details included this is your type of story.
Get Hot Wives Matter by Telly Fox at Amazon
Have you read this book or another by this author? Tell us about it in the comments!