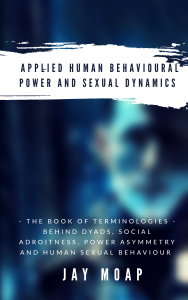 Steam Level: (Ranked from 1 to 5, as noted by the author): Steam Level 4
The male sexual hierarchy strictly corresponds, and is associated with the amount of mating effort that the male must commit, to gain access to female sexuality​. This is a primal selection process, and social influences such as marriage or commitment remains subject to this selection.
Consequently, less desirable males must make the most effort to access female sexuality. Male desirability is subjective to each female's preferences, and is therefore always situational or momentary. The interference of power dynamics in sexual dynamics is partially the consequence of the compensation factor for lack of desirability, and the power elements are proportional with the amount of effort required for the male to make in attempt to ensure sexual access.
Accordingly, from a male perspective, reciprocation towards the signalling of the female sexual availability, or interest, is the only primal dominant position. It is not only ​because it requires no mating effort​, but instead is also a representative of approval, or validation, of the female's sexual interest, and her self-objectification, while also implying the absence of mating competition​.
Even though Females appreciate acknowledgement of desirability, or male validation in social settings, from the female perspective, validation over her physical beauty is valued the most, and is vital in her selection of a particular mate or choice.
This can be referred to as primal sexual dynamical context, which is not to be confused with social conditioning or intellect-based reasoning.
Get Applied Human Behavioural Power and Sexual Dynamics at Amazon
Get Applied Human Behavioural Power and Sexual Dynamics at Apple Books
Have you read this book or another by this author? Tell us about it in the comments!
All information in this post was provided by the author and is not altered. We do this so that you the reader can decide to buy a book based on what the author says and how they present themselves and their book.