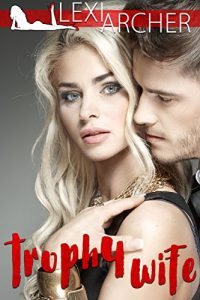 Steam: Steam Level 5
They were both hiding terrible secrets, but this newlywed couple is going to discover that the truth will set them on a path of unimaginable lust and passion!
Katrina was young, beautiful, and in love. Everyone said she only married Harry because of her money, but she knew the truth. Only she had a little problem. She'd never been faithful to any man she'd ever been with, and she was terrified what might happen when married life collided with her wild side!
Harry was on his second marriage. His first fell apart because of his unusual desires. Desires to see his wife in the arms of another man. Desires he's kept secret to keep Katrina in his life. Only as they start their honeymoon he's going to discover his blushing young bride is a lot wilder than he thought!
Two people with secrets. Two people with fantasies. Two people who are going to discover they're the perfect match as they embark on the wife sharing lifestyle together!
Get Trophy Wife by Lexi Archer at Amazon
Have you read this book or another by this author? Tell us about it in the comments!