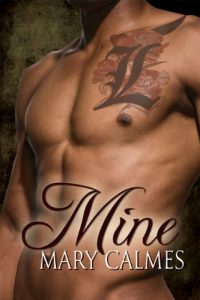 Steam: Steam Level 5
Trevan Bean has a job that's going from illegal to frightening, a boyfriend who may not be in his right mind, and a guardian angel who might actually be evil incarnate. Add to that the reappearance of his boyfriend's estranged family, death threats, kidnapping, and the struggle of saving money to realize a dream, and Trevan has a lot on his plate. But Trevan is up to the challenge: he promised Landry a happily ever after, and Landry's going to have it if it kills him!
It just might.
Landry Carter was a broken doll when they met two years ago but has grown into a partner who can stand at Trevan's side… most of the time. Now that Trevan's life just got scary—and Landry just got himself kidnapped—Trevan has to hope Landry's love stays strong through this newest challenge, because the happily ever after won't happen if Trevan has to go it alone.
Get Mine by Mary Calmes at Amazon
Get Audiobook
Have you read this book or another by this author? Tell us about it in the comments!