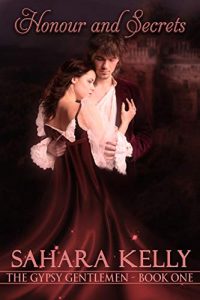 Steam: Steam Level 4
"One simply has not experienced pleasure until a Gypsy Gentleman has shared one's bed." An Anonymous London hostess, Carlton House, 1815
Six men, united by war, form a friendship bonded by mutual respect and affection. Tired of fighting, they travel to England, cutting a swath through London's Society with their music, their good looks and their outrageous sensuality. Each man is possessed of secrets better kept hidden, but together they are a force for good – and a delightful danger to the women who adore them.
Hungarian Viktor Karoly is the ideal "Gypsy". Dark, handsome and musically gifted, Viktor is growing tired of their London evenings, and accepts an invitation to visit Lord Eventyde's country home. What he finds there? Something magical that casts a spell over both himself and the nymph dancing to the sound of his violin.
Pyotr Josef is not in the least troubled to be on his own, misdirecting villains and leading them on a chase to nowhere in the English countryside. He is, however, considerably troubled when a body falls on him from a tree and he discovers to his utter astonishment that it is that of a young woman. And one he knows all too well. His secrets are secrets no more, and although the danger to his person is in the past, the danger to his heart has just begun…
(Recommended for mature audiences)
Get Honor and Secrets (The Gypsy Gentlemen Book 1) by Sahara Kelly at Amazon
Have you read this book or another by this author? Tell us about it in the comments!