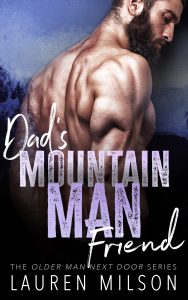 Steam Level: (Ranked from 1 to 5, as noted by the author): Steam Level 5
My dad's best friend is a big, brawny mountain man.
Too hot to handle. Too cold to touch.
A big, immovable rock of an alpha.
He's as rough as the mountains, hard as an axe, and positively forbidden…
What's a girl to do when she needs a little break?
Go rough it, of course.
In beautiful upstate New York, where the sky is blue and the mountains are…
Rough.
It'll be perfect. Just me, a cabin, a trashy book, a bottle of wine…and the trustworthy, protective man who lives next door.
My first crush.
My deepest, darkest secret.
My dad's best friend.
Their lives went in different directions. My dad became a cop in the city. Magnum became a cop in the mountains.
I love the city, don't get me wrong.
But somehow I think I'm going to like this mountain air for a change.
There's something about the atmosphere up here that's a little different.
It's thinner. Fresher. Energized.
Getting me excited.
But the mountain air is not the only thing making me weak in the knees…
A hot little ott action-filled romp through the mountains with an HEA <3 buckle up for a classic omyw wild ride.
Each book in "The Older Man Next Door" series is a stand-alone and the books can be read in any order.
xx, Lauren
Get Dad's Mountain Man Friend at Amazon
Have you read this book or another by this author? Tell us about it in the comments!
All information in this post was provided by the author and is not altered. We do this so that you the reader can decide to buy a book based on what the author says and how they present themselves and their book.