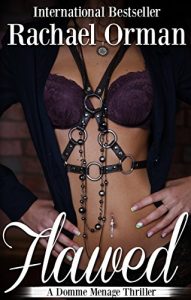 Steam: Steam Level 5
Julia is a domme for hire. Paid to spank and dominate men, she loves what she does during the summer months. However, she is also a submissive for her husband.
Garrison is content being married to Julia even though he is a bisexual. That is, until he realizes the man he has the hots for is interested in him. Too bad his job as a detective has him busy dealing with a serial murder case. Good thing, the sexy lawyer is also on the case and it gives him a reason to see him.
Keaton might be a shark in the courtroom, winning almost every single case he tries, but he is submissive in the bedroom. It's hard to balance his work life with his private life and finding someone that can handle both aspects of his personality.
When they realize they all know each other and there is desire between the three of them, things get hot. But, can three really make a relationship instead of two?
The serial murderer isn't going to wait for them to figure out their situation. He is on the hunt for dommes and isn't leaving much behind for the police to use to find him.
Get Flawed by Rachael Orman at Amazon
Have you read this book or another by this author? Tell us about it in the comments!