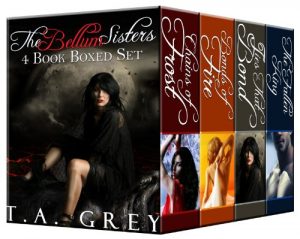 Steam: Steam Level 4
A USA TODAY Bestselling novel! Get 4 steamy paranormal romance adventures in your hands today! This bundle contains the complete Bellum Sisters series with each of the four, full-length fun & sexy novels where four sisters are paired with the four most powerful men in existence: the vampire commander, the alpha shapeshifter, the demon warlord, and the cursed demon king.
Four Fates. Four Sisters.
Get lost in a world of succubi, spell casting, and sassy jokes. And meet the men sent to Protect the Bellum sisters: The scarred vampire commander with a heart of ice, the alpha shapeshifter who will stop at nothing to capture his mate, the hot golden-skinned, blue-haired demon warlord who'd rather work than play, and finally, the banished king–cursed to a life of tortured darkness. These are the Bellum sisters and these are their stories.
The Bellum sisters are endowed with magical and seductive qualities as succubus creatures and although they've lived independently for their entire lives, all that is about to change as they reach their 29th birthday.
At a succubus' 29th year she no longer needs food to sustain herself, but sex. Their father has died and in his wake he has bequeathed his daughters into the ownership of new Protectors: the vampire commander, Tyrian en Kulev; the alpha shapeshifter, Lyonis Keelan; the demon warlord, Telal Demuzi; and the cursed demon king, Alrik Demuzi.
The sisters will fight ancient demons the size of mountains while battling their hearts, casting a few bad spells, cursing bloody murder, making crude jokes, and cozying up to a hard male body. What more could a succubus want?
Book One: Chains of Frost – Chloe Bellum and Tyrian en Kulev's story
Book Two: Bonds of Fire – Willow Bellum and Lyonis Keelan's story
Book Three: Ties That Bind – Lily Bellum and Telal Demuzi's story
Book Four: The Fallen King – Abbigail Krenshaw-Bellum and Alrik Demuzi
Get The Bellum Sisters Book Bundle: 4-Book Boxed Set: The Bellum Sisters Series by T. A. Grey at Amazon
Have you read this book or another by this author? Tell us about it in the comments!