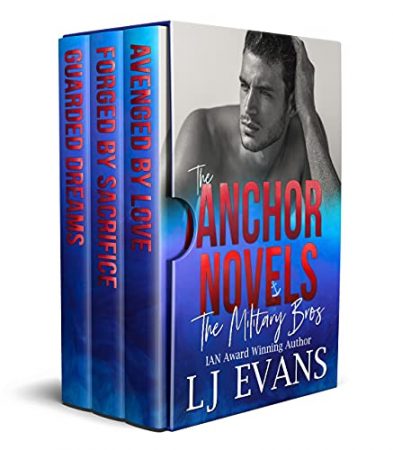 Steam: Steam Level 4
Three slow-burn, sizzling, military romances plus an exclusive novella. Heartfelt beach reads full of love, sacrifice, and family. The perfect book boyfriends to kick off your summer.
"The energy was coming off of her in waves, like an undertow, and I was going down."
GUARDED DREAMS ― a second-chance, military romance. Eli's chasing a dream of the Coast Guard that he's determined to make his, no matter the consequences. He isn't looking for love, but when the free-spirited singer, Ava, breezes into his world, he finds himself changing his tune.
FORGED BY SACRIFICE ― a slow-burn, political romance. Mac is determined to change the world. A life in politics is his future. The dream of a law degree Georgie once gave up is finally in reach. When they're given an unexpected chance at love, they can't deny it. But will her family's past make his future an impossibility?
AVENGED BY LOVE ― a fake-marriage, military romance. Travis is focused on two things: his Coast Guard career and his brother's future. Everything changes once the beautiful, comic-loving Jersey crashes into his world, needing more help than he knows how to give. A marriage of convenience seems like the only solution. But what happens when convenience turns to love?
THE HURRICANE ― bonus novella. Catch up with Eli, Mac, Truck, and their wives eighteen years after the gang first met in Guarded Dreams. This stunning bonus story shows the true meaning of family, sacrifice, and love as the gang gathers to help Eli and Ava rebuild.
The Anchor Novels from award-winning author, LJ Evans, are HEA, military romances about true friends, real "family," and the dreams we reshape as we go through this wild ride called life. With vivid, endearing characters, these books just might carve out a special spot in your heart and then stay there forever.
Don't miss out on this music-inspired series that readers say will leave you breathless.
Get The Anchor Novels: The Military Bros. by LJ Evans at Amazon
Have you read this book or another by this author? Tell us about it in the comments!