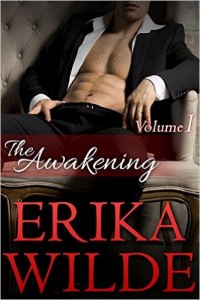 Steam:: Steam Level 4
Erika Wilde turns up the heat in THE MARRIAGE DIARIES, a brand new sexy series about a married couple who take intimacy and passion to the extreme.
After nearly twenty years of marriage, Jillian Noble is ready to put some spice back into her sex life with her gorgeous husband, Dean. After seducing him at his office, Jillian reveals what she wants, and her husband is more than happy to oblige. Erotic fantasies are fulfilled, and forbidden passions surface as they open themselves up to a provocative world where boundaries are pushed to the limit and pleasure is the ultimate goal.
But Dean has a dark past, and even darker desires that he's kept a tight rein on all these years. When he gives his wife a taste of his more illicit appetite, will she embrace his carnal needs, or beg for mercy?
This short novelette of 11,000 words contains two short erotic interludes between married couple Dean and Jillian Noble.
THE MARRIAGE DIARIES Series
The Awakening (Volume #1)
The Seduction (Volume #2)
The Taking (Volume #3 – Coming Soon)
Please join me on my interactive facebook page at: www.facebook.com/themarriagediaries
Get THE AWAKENING at Amazon
Get THE AWAKENING at Barnes and Noble
What format is this book in? eBook, Print Book
Have you read this book or another by this author? Tell us about it in the comments!