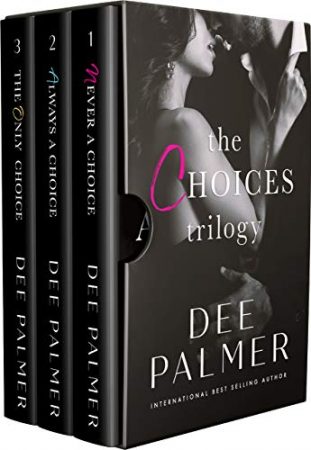 Steam: Steam Level 5
Remember the books that made you fall in love with hot alpha males?
Well, if you enjoyed Christian and Gideon, you are sure to melt over Daniel Stone.
If you love epic suspense romance stories with enough heat to scorch your kindle, you will love the best selling Choices Trilogy by Dee Palmer, start your journey now with Never.
Never A Choice
Bethany Thorne has secrets and she's told a few lies but she's hurt no-one. She just wants a better life,
She works hard for a life with choices,
A chance encounter with the mysterious stranger, Daniel Stone changes everything.
He makes her heart beat, her body tremble and rocks her very foundation.
Reeling from the intensity of her unfathomable reactions to this man, her world is sent further spiraling out of her control when on the very first meeting he casually whispers that he knows she's a liar.
Bethany begins to feel her hard-earned choices start to disintegrate before her.
Dark and dominant, Daniel evokes an instant heat and temptation Bethany has never felt before.
He is dangerous, powerful and he seems to see right through her.
Will trying to stay under his radar, prove to be just the first choice to slip through her fingers?
Always A Choice
Dark and erotically demanding Daniel is everything and more.
Bethany embraces the challenge of being with a man like Daniel whilst trying to come to terms with what he needs.
And what she can give him of herself.
Is it ever going to be enough?
Daniel consumes and possesses every part of her,
It's intoxicating and seductive.
Bethany needs to choose between being true to herself and the promises she made.
Can she dare to be the type of woman Daniel demands?
The Only Choice
Bethany's devastation is complete.
Secrets, lies, and impossible choices have torn her world apart.
It is not the first time she has had to rebuild her world.
She's done it before, she'll do it again.
She has to.
When Bethany is reunited once more with Daniel, she is backed into a corner and with the threat of losing even more, she comes out fighting.
Daniel quickly learns there is nothing quite as intoxicating as a woman with nothing left to lose and nothing quite as irresistible as his Bethany.
But, there are more games being played than either of them is truly aware of.
With a Happy ever After as the prize, what price should she pay?
What choice would you make?
Get The Choices Trilogy by Dee Palmer at Amazon
Have you read this book or another by this author? Tell us about it in the comments!