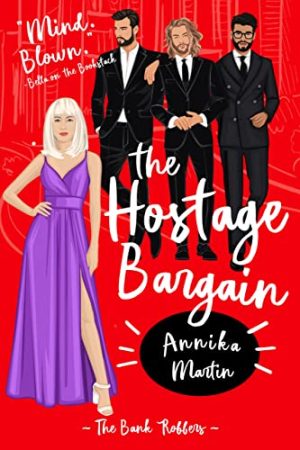 Steam: Steam Level 5
"I'm hopelessly addicted. I don't even care. I love these guys." ~Goodreads
I was a small town bank teller desperate for escape—until the day the bank robbers came to town and took me hostage during a daring robbery.
I'd never been in a car chase before—hell, I'd never traveled more than a few miles from our farm.
I'd definitely never kissed an outlaw while blindfolded—or had rules as shocking as theirs whispered in my ear.
These dangerous, yummaliciously competent criminals had some very wicked ideas. And maybe it was the sensation of my terrible troubles disappearing behind me, but I was thrilled. I wanted it all.
But my bank robbers have secrets. And troubles of their own. And they have deep and tragic wounds that torment them.
Can I save them? Can I even help them? Or am I simply in over my head?
"So dirty and omfg so funny! I wanted it to last forever!" ~Night Reader Reviews
"I heart this gang like crazy! I hope she never stops writing these books!" ~Goodreads
Named a "Best book of the year" at Penelope Romance Reviews & A Buckeye Girl Reads & Nominated for Year's Best by The Romance Reviews
Get The Hostage Bargain: A 'why choose?' romance! (The Bank Robbers Book 1) by Annika Martin at Amazon
Have you read this book or another by this author? Tell us about it in the comments!