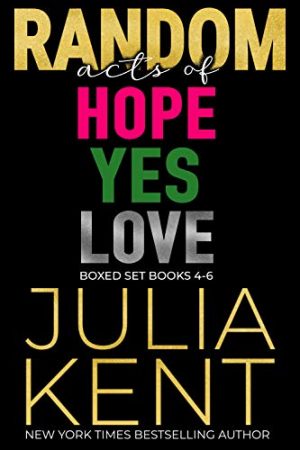 Steam: Steam Level 4
It may have all started with a hitchhiker wearing a guitar – and only a guitar – but now the band's on the rise, and every member – Trevor, Joe, Liam, Sam, and Frown – has a story.
A love story.
From working the "day job" in creative ways to pay bills to engagements gone awry to second chance romances and breakups that make Mavis the Chicken return along with the ever-assured Happily Ever After, this wild and crazy ride leaves you filled with HOPE, screaming YES, and so full of LOVE.
This boxed set contains Random Acts of Hope, Random Acts of Yes, and Random Acts of Love, books 4, 5 and 6 in the New York Times bestselling Random series by Julia Kent.
Get The Random Series Boxed Set (Books 4-6) (Random Box Book 2) by Julia Kent at Amazon
Have you read this book or another by this author? Tell us about it in the comments!