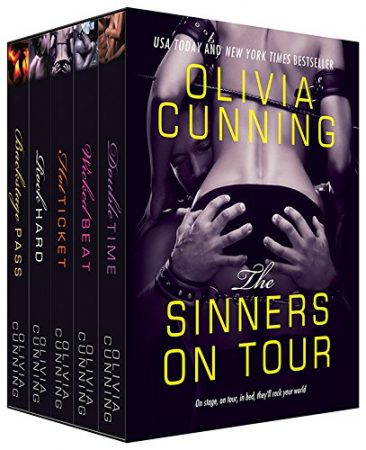 Steam: Steam Level 5
USA Today and New York Times bestselling author of erotic romance Olivia Cunning has delighted readers with her wildly popular Sinners on Tour rock band series, the perfect blend of steamy sex, heartwarming romance, and wicked humor. Now, get all five scorching reads for one low price.
The Sinners on Tour Series:
1. Backstage Pass
It's been months since lead guitarist Brian Sinclair composed anything. But when sexy psychology professor Myrna Evans comes on tour to study groupie mentality, Brian finds the spark he needs to reignite his musical genius. When lust turns to love, can Brian convince Myrna that what they have is more than just a fling?
2. Rock Hard
The stage is the only place lead singer Sed Lionheart feels any passion since he lost Jessica, who broke off their engagement to go to law school. But trapped together on the tour bus for the summer, Sed and Jessica will rediscover their penchant for public encounters and the millions of steamy reasons they never should have called it quits…
3. Hot Ticket
Struggling with his past, bassist Jace Seymour seeks dominatrix Aggie to help placate his inner turmoil. Aggie doesn't have much use for men, but Jace quickly steals her heart. When Jace's position in Sinners is compromised, Aggie must help him regain his rightful place while showing him that time and love can heal all wounds.
4. Wicked Beat
When Rebekah Blake becomes the Sinners' new soundboard operator, she can't wait to seduce guitarist Trey. Instead she catches the eye of red-hot drummer Eric Sticks, who sets out to prove that he is the only man who can give her everything her dirty mind desires…
5. Double Time
On the rebound from the tumult of his bisexual lifestyle, rhythm guitarist Trey Mills falls for sizzling new guitar sensation Reagan Elliot. Ecstatic to be on tour learning the ropes with Trey's band, Reagan finds she craves Trey just as much as the spotlight. When Reagan's ex, Ethan, returns, Trey's secret desires flare, and Reagan agrees to a hot new world of sexual experience with the two men she loves the most.
Get The Sinners on Tour Boxed Set by Olivia Cunning at Amazon
Have you read this book or another by this author? Tell us about it in the comments!