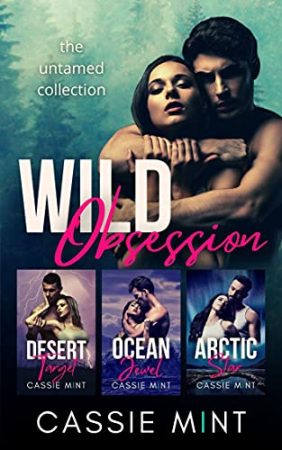 Steam: Steam Level 5
Mountain cabins. Desert dunes. Ocean waves.
These short and steamy instalove stories have wild settings and even wilder heroes. Are you feeling brave?
The Wild Obsession box set includes:
Mountain Captive
The Volkovs took everything from me. They destroyed my family when I was a boy.
So when the pretty little Volkov heiress stumbles past my cabin in the mountains, I can't believe my eyes.
Desert Target
They hired me to kill the queen of the underworld. But when I track my target into the desert, she's… a hairdresser?
Ocean Jewel
My older brother means the world to me. I owe him everything.
But if he knew the filthy daydreams I have of his best friend… he'd never look at me the same way.
Arctic Star
I live in the wilderness by choice. I'm no good with people.
But when a terrified young woman knocks on my cabin door, I have no choice but to offer her shelter.
Get Wild Obsession: Books 1-4 by Cassie Mint at Amazon
Have you read this book or another by this author? Tell us about it in the comments!