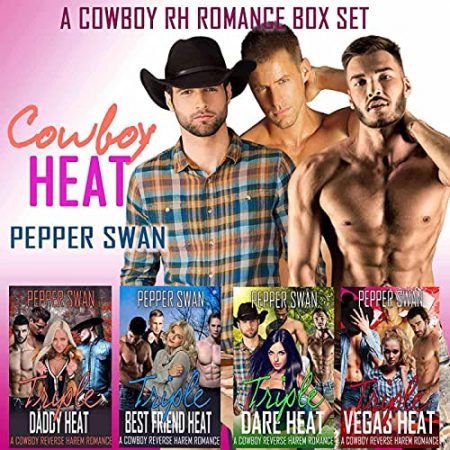 Steam: Steam Level 5
The perfect reverse harem binge read in one boxed set, with a free bonus book just for you. So, grab a spot in front of a roaring fire, on the sofa in your living room, or on your big, comfy bed and meet the hot, protective badass cowboys who are eager to rope you into their delicious winter heat!
Triple Daddy Heat
One man has never been enough.
Three men… and I'm just getting started.
I'd been slinging cocktails for a few weeks, and every Saturday night, wickedly gorgeous Boone Gentry was a fixture at the bar getting shit-faced until closing. That was until a woman abandoned her baby on the barstool next to his, claiming he might be the daddy.
Soon, I was tangled up with not only Boone, but his cousins, Tucker and Vince, who seemed to not only share their successful tech business and luxury ranch, but also their women… just whose baby was this?
Nanny duty by day, and oh-so-hot nights spoiled me for anything resembling normal. I couldn't stay… this thing we shared would certainly never last… or would it?
Triple Best Friend Heat
They'd been my best friends… until tragedy struck.
When a generous offer comes in for the ranch I deserted soon after my husband's memorial, I decide to sell. Problem is, my three best friends still work the ranch.
I'll need to tell them in person.
As soon as I see Toby again, the smoldering, hard-bodied loner, I know I've made a huge mistake in returning.
Then there's Dale, with his sly wit, and his chiseled body, it's impossible to control my dirty thoughts.
And when Josh gives me one of his bear hugs, I know I want these three rugged cowboys in my bed.
But am I ready for love again… and with my best friends? Are these brawny, strong-willed wranglers willing to share me? And if they are, how can I possibly sell the ranch?
Triple Dare Heat
I intended to spend a little time with my favorite aunt in her small town and lick my breakup wounds… so much for good intentions.
After running my car off the road, and getting rescued by an enticing sheriff, I reluctantly accept his generous offer of his guestroom, and a visit from the town's only doctor.
My aunt, who owns the local tavern, shows up 24 hours later to take me home, but the doctor insists I stay put.
Sheriff Trace Lansing, the soft-spoken, rugged giant with a hard body made for sin.
Doc Austin, a kind and capable man, with a bedside manner that leaves me breathless.
Cory Martin, the delicious muscle-bound sheriff's deputy, who can charm me right out of my panties with his killer smile.
Soon, they have me considering staying, and with a little help from my aunt, I just might stick around for a while… or will I?
Get Cowboy Heat (Cowboy Heat Series) by Pepper Swan at Amazon
Have you read this book or another by this author? Tell us about it in the comments!