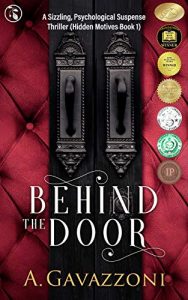 Steam: Steam Level 4
5X AWARD WINNING BOOK
A sudden death
An inexplicable crime
A serial killer on the loose
When Lara dies at the hands of a Manhattan lawyer during a sex game, he needs help to prove that Lara's death was accidental.
Simone, a brilliant psychiatrist and the author of books on sexual behavior, is hired to analyze the detailed account of the lawyer's steamy, year-long relationship with Lara.
While she evaluates the presumed killer's writing, Simone continues to receive patients with sexual disorders and unusual fantasies.
Meanwhile, Simone's clinical partner, friend and research colleague, Edward, is working with the police to capture a serial killer who is torturing and killing women.
From hot and unusual sex to the swing houses of New York and Paris, this fast-paced page-turner is a blend of mystery, suspense, humor, romance and erotica.
With a shocking twist at the end that no one sees coming, the murder culprit may not be who you think…
Get Behind the Door (Hidden Motives Book 1) by A. Gavazzoni at Amazon
Have you read this book or another by this author? Tell us about it in the comments!