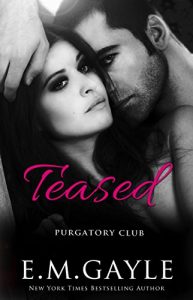 Steam: Steam Level 5
Welcome back to Purgatory! A club for every desire…
Recovering from a bad relationship, Walker comes to Purgatory looking for a place to call home. While he enjoys the casual play, he yearns to make a connection with a submissive for the long-term. The second he lays eyes on beautiful, mysterious Cass at the flogging station, his mind is made up.
Cass enjoys the sense of anonymity Purgatory gives her, and despite her determination to live by her rules she is unable to resist Walker. Can Cass overcome her personal demons to give in completely to the Dom who has her heart, and a mighty strong whip, in his hands?
Get Teased (Purgatory Club Series Book 3) by E.M. Gayle at Amazon
Have you read this book or another by this author? Tell us about it in the comments!