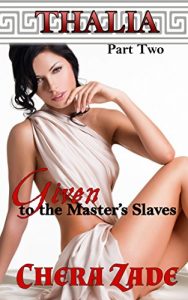 Steam: Steam Level 5
"I'm an artist, Thalia. I like to be surrounded by harmony and perfection, and this is why I've chosen my pleasure slaves so carefully. Love is also a form of art, and last night, at Markos's symposium, you proved that you understand it and know how to give life to it. Tonight, you're going to make art together with my slaves."
I never thought my master, Markos, would give up on me, his favorite pleasure slave. I had been entertaining him and his friends since he first brought me to his villa in Athens. But, during one of his notorious drinking parties, the famous painter Apelles set his eyes on me and decided to make him an offer he couldn't refuse.
Just as I was getting used to my life here, I was passed from one master to another and ended up having to pleasure even more men at once. My new master's slaves were insatiable beasts with bodies as tall and large as mountains. Even as my very core throbbed with desire, I knew there was no way what was hidden underneath the cloths around their waists would ever fit.
"Given to the Master's Slaves" is the second part in the trilogy that focuses on Thalia, a Sicilian young woman who becomes a slave in Athens only to climb the social ladder and achieve fame and wealth as a courtesan. This steamy historical short is suitable only for those over 18 years of age.
Get Given to the Master's Slaves (Thalia Book 2) by Chera Zade at Amazon
Have you read this book or another by this author? Tell us about it in the comments!