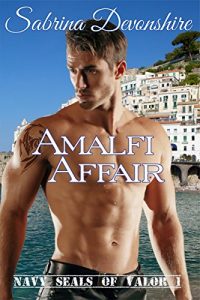 Steam: Steam Level 4
On a cycling tour through the Swiss Alps, CIA agent, Olivia Simpson, meets handsome Navy SEAL, Darryl Jennings. Her lust shifts into overdrive for this man on leave from missions he won't discuss. A one night stands leads to a blissful week traveling the Amalfi Coast. Because of their secretive careers, their love affair is destined to end. Olivia immerses herself into her Intelligence work with memories of Darryl never far from the surface. When she receives a surprise phone call from him nine months later, she dashes off to meet him in Italy.
Despite Darryl's decision to end his relationship with Olivia, he returns to his missions in Afghanistan unable to shake her from his heart. Regret for letting her go gnaws at him until he decides to search for her. After following numerous dead end leads, he gives up on ever finding the elusive woman who stole his heart nine months prior. When he's called in for a mission to rescue a high-level intelligence officer who's been kidnapped, he realizes the woman in question is his Olivia. Pressure mounts as he becomes embroiled in a mission where the fate of his true love falls on his shoulders.
Get Amalfi Affair (Navy Seals of Valor Book 1) by Sabrina Devonshire at Amazon
Have you read this book or another by this author? Tell us about it in the comments!