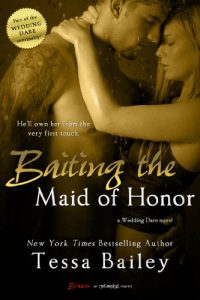 Steam: Steam Level 5
Julie Piper and Reed Lawson have nothing in common. She's a people-pleasing sorority girl hiding behind her perfect mask. He's a take-no-prisoners SWAT commander who isolates himself from the world. But when they're forced together at their friends' posh destination wedding, one thing is clear—Reed wants Julie more than he wants his next breath. Which is why he's not about to stand by when she's dared to seduce another man.
Julie wants neat, tidy sex, so she could get back to what she does best—making everybody else happy. She never expected to slip into a dark bedroom and have her mind blown by rough, demanding hands, and a sinfully filthy mouth—neither of which belong to the best man. One night should have been all Reed needed to get the blond temptress out of his system, but when one taste is nowhere near enough, he'll be forced confront the effects of his hellish past. One that may push Julie away forever…just when he realizes he can't live without her.
Each book in the Wedding Dare series is a standalone story that can be enjoyed out of order.
Get Baiting the Maid of Honor (Wedding Dare series Book 2) by Tessa Bailey at Amazon
Get Audiobook
Have you read this book or another by this author? Tell us about it in the comments!