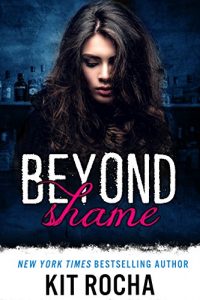 Steam: Steam Level 5
Book 1 (of 9) in the bestelling, multi-award winning BEYOND series.
All Noelle Cunningham has ever wanted was a life beyond–beyond her stifling role as a prim and proper councilman's daughter, and beyond the walls of the patriarchal city of Eden, the only remnants of safety in a world destroyed by solar storms decades earlier. But when she's banished for violating the prohibition against immorality, she's unprepared for the lawless world outside the city's walls.
The sectors surrounding Eden house those abandoned to fend for themselves–men like Jasper McCray, bootlegger and cage fighter. Jas clawed his way up from nothing to stand at the right hand of Sector Four's ruthless leader, and he'll defend the O'Kane gang with his life. But fighting hasn't prepared him for dealing with a sheltered City princess who falls at his feet.
Her innocence is undeniable, but so is her intense sexual curiosity. Soon they're exploring every dark fantasy she's ever been ashamed to have. But if Noelle wants to claim her place with the O'Kanes and at Jas's side, she'll have to find the courage to embrace something even more terrifying than her own desires.
Her own power.
***
Beyond Shame is an erotic dystopian romance set in a dark and decadent world. While the characters explore kink and sex with multiple partners, all sex between characters is 100% consensual.
Get Beyond Shame (Beyond, Book 1) by Kit Rocha at Amazon
Get Audiobook
Have you read this book or another by this author? Tell us about it in the comments!