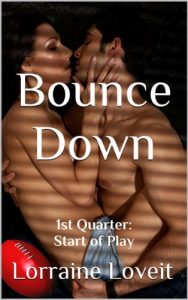 Steam: Steam Level 5
What happens when a first-time dominant and submissive come together?
The answer is a great deal of heartache. This is not a romance; it's a story about one person's need to control and dominate another.
Brendon is an AFL footballer who advertises on the internet for a submissive. Suzie, a secretary at Homicide Squad, is curious and answers his ad.
Theirs is a story plagued with anguish and subjugation, as they each struggle to find themselves; from the thrills of power play to the depths of self-degradation. They are both inexperienced in the roles they play and as this tragic relationship develops, Brendon and Suzie each realise they want more.
Will Suzie get the respect she deserves and will Brendon finally admit how important she has become?
This novel is part of the Playing the Game Series.
BOUNCE DOWN EXCERPT: Copyright 2014 Lorraine Loveit
"How do you feel right now, one word answer?"
That was easy, in a word, "Vulnerable."
"Better, it's a step up from nervous. Are you feeling aroused, yes or no?"
It was hard to admit, especially with him standing over me like he was. "I don't know…."
"Yes or no?"
After a brief pause, I confessed in a small voice, "Yes."
"Good, come with me." In a controlled movement he brought me to my feet. He held my bound hands in one of his and grabbed the paperwork with the other. He headed for the stairs, pulling me along behind him. He was forceful yet took the steps at a slow pace so I didn't stumble.
It was an overwhelming experience, heightened by the fact he didn't speak nor once look back at me
Get Bounce Down: First Quarter: Start of Play (Playing the Game Book 1) by Lorraine Loveit at Amazon
Have you read this book or another by this author? Tell us about it in the comments!