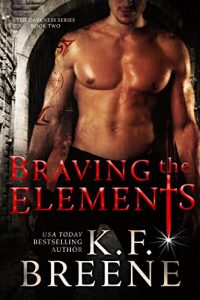 Steam: Steam Level 4
Sasha has always known she was different, but now she also knows that the shadow men she's seen all her life, are real.
With a life goal of fitting in, Sasha hopes her strange abilities will finally make true friendship a possibility. Unfortunately, her magic doesn't function like everyone else's. What she thought would make her belong, sets her apart now more than ever.
Stefan, all but promised to a different woman, has tried to keep his mind on his duties instead of the irresistible and free-spirited human. But when she is threatened, he can't keep his distance any longer. He realizes he'll stop at nothing to keep her safe, and more importantly, make her his.
Just when one thing clicks into place, another spirals out of control. Stefan's clan isn't the only group that would benefit from an extremely rare type of magic. And their enemies will stop at nothing to get what they want.
Get Braving the Elements (Darkness #2) by K.F. Breene at Amazon
Get Audiobook
Have you read this book or another by this author? Tell us about it in the comments!