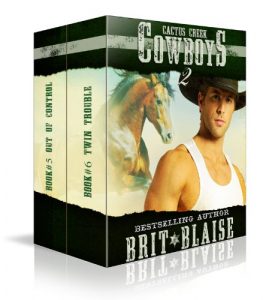 Steam: Steam Level 5
CACTUS CREEK COWBOYS 2 (Anthology of three stories)
OUT OF CONTROL
Rodeo star Ray Kale is ready to retire at the top of his game. No more bulls! His plans didn't include a feisty cowgirl with a penchant for using her fists.
Connie Kettering is sassy, outspoken…and damaged. Some might even say she's out of control. Ray Kale has been trying to piece her back together since he rescued her when she was attacked at 15. He's the only one she'd talk to about her traumatic experience.
Now she all grown up, and at age twenty-two she's still looking to Ray for answers.
TWIN TROUBLE: ZOE'S STORY
Championship bull-rider, Steve Hansen returns home, not as the conquering hero, but in a wheelchair with a taste for booze that is threatening to take over what little is left of his life. The last thing on his mind is a woman who wants to play for keeps.
Zoe trusts her twin sister, but when Zandra comes up with a plan to give the returning cowboy-warrior a sexual experience together, she's not sure she wants to go along with the crazy plan. She wants Steve, but this could destroy any real chance she has with him.
TWIN TROUBLE: ZANDRA'S STORY
When the heat turns from friendly to deadly…
A dynamite duo, Zandra and Spence are best friends with a history of sexual exploits. When a handsome cowboy joins them, three isn't a crowd, just pure raucous fun for all.
But something goes wrong. What starts as amusing entertainment with a splash of kink, becomes complicated for Zandra. She can't control her emotions. What's worse, Jake brings more to the ménage than anyone suspects—a desperate stalker.
Jake's life is what he wants, freedom to fulfill his every desire and some he didn't know he had. He doesn't need a six-foot-tall blond complication…
Genres: Contemporary / Cowboys / Western (Modern Day) / (M/F) / Ménage (F/M/F) / Ménage (M/M/F) / Bisexual Activity (M/M) / Series
Get CACTUS CREEK COWBOYS 2 by Brit Blaise at Amazon
Have you read this book or another by this author? Tell us about it in the comments!