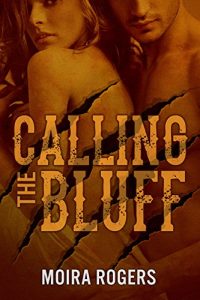 Steam: Steam Level 5
Hazel Young is a rare commodity in town: a young, single female whose first mating is nearly upon her, and she's spent the last two years fending off suitors. After all, there's nothing flattering about being wanted for the heat in her blood instead of for herself…especially when she gave her heart away to Oliver Russell years ago. But Oliver seems to feel nothing for her but fond kindness, and the time has come to choose a mate before the wolf makes the choice for her.
When Oliver happens across Hazel being pressured by a local who wants to be her first, it awakens protective instincts he thought he'd set aside with the death of his wife five years ago. With Hazel in heat and no time to get her to safety, they wind up in a fishing shack on Lonely River. They have no choice but to ride out her mating fever together…even if the last thing he expects is to be truly tempted by her inexperienced attempts at seduction.
Get Calling the Bluff (Down & Dirty #2) by Moira Rogers at Amazon
Have you read this book or another by this author? Tell us about it in the comments!