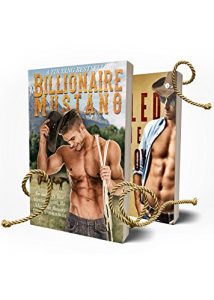 Steam: Steam Level 5
Mail order brides, cowboys, horses, a billion dollar ranch. Oh, my! What more could a southern belle desire?
Get Your Cowboy Fix In This Over-The-Top hot TWO Book Complete Bundle with FREE BONUS Content
Billionaire Mustang
Cowboy Vaughn's very presence oozes confidence and it always seems like his biceps might break his shirtsleeves. He spends his days rescues mustang horses from slaughterhouses and trains them to become Mounted Patrol Officers (horse police) on his extravagant ranch in Sampson Montana. He lives for the fresh air and people assume he doesn't care about much else, especially not women… But that's about to change.
Tasia is a hard-to-get Veterinarian from Los Angeles, California. She was inspired by Vaughn's work and all he does to reduce pollution, make cities safer and save horses, so she insists on flying to Vaughn's Ranch for some volunteer work. One lingering look into Vaughn's eyes and she knows she's getting into more than she bargained for.
Mailed to the Cowboy
Mail order bride Helen is almost 30 and tired of waitressing in her small hometown in Alabama. Just when she's about to give up, she finds the perfect opportunity for a new life. Unconventional, but perfect.
"What made you decide to look for a mail to order bride? I mean, based from what I've seen, you don't seem to have a problem attracting women."
For a moment I thought I saw a glimpse of sadness on his eyes that I didn't fail to notice.
"The truth is, I'm not looking for love."
"What?"
"I'm looking for someone to be my wife so that I can get my daughter back."
NOTE: These short stories can be read in a couple hours, perfect for a quickie, filthy read. Not for the faint of heart.
Get Cowboy Strong: Save a Horse, Ride a Cowboy… Or Two by dirty brandi at Amazon
Have you read this book or another by this author? Tell us about it in the comments!