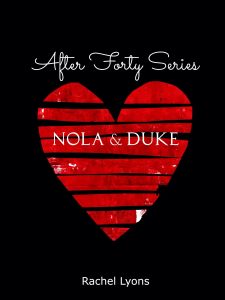 Nola & Duke After Forty Series by Rachel Lyons
Steam Level : Steam Level 4
About Nola & Duke After Forty Series
Edited 7/2020
Nola Sullivan's life hasn't turned out quite as she hoped, but she has a beautiful life, none the less. She's grateful for her crazy sister, brother-in-law, and her six nieces and nephew; her life is never dull, living up the street from the eight of them. She always wanted a family of her own, but the universe had a different path for her. She's accepted it most likely won't happen, but she hasn't given up hope on finding love.
Duke Amerson's life has revolved around whatever current goal he has set for himself. He is demanding, respectful, and lives a life filled with work and rules and he likes his structured life. He's not against love, but he has things to achieve first before he has time to think about settling down. He was surprised and taken off guard when he fell so quickly for Nola.
Buy Book here Check book price before you buy, as prices can change due to expiration of the sale or other technical issues.
Is this book no longer priced under $2.99? Let us know in the comments! Have you read this book? Tell us about it in the comments!