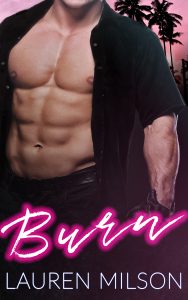 Steam Level: (Ranked from 1 to 5, as noted by the author): Steam Level 4
My obsession has reached a fever pitch so hot I could explode.
When I save an innocent young beauty from a fire engulfing LA's grimiest pawn shop, she tells me she owes me her life.
But I don't want her life.
I want her.
When she's torn away and put in the back of the ambulance, she took my heart along for the ride.
I won't be able to breathe again until I find her.
All I know is that she has a cute little white car, adores hula dancers, and lives on the wrong side of Sunset Boulevard.
I vow to find her, even if I have to burn this city to the ground.
I'm a possessive beast who will stop at nothing to claim my woman.
And when I do?
It'll be nothing but scorching, white-hot love forever.
Get Burn at Amazon
Get Burn at INSERT NAME OF ADDITIONAL BOOKSELLER
Have you read this book or another by this author? Tell us about it in the comments!
All information in this post was provided by the author and is not altered. We do this so that you the reader can decide to buy a book based on what the author says and how they present themselves and their book.