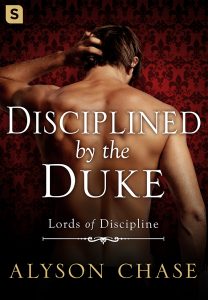 Steam/Violence Level: (Ranked from 1 to 5, as noted by the author): Steam Level 4
The day her sister murdered their abusive father, Elizabeth Wilcox stopped being a gentleman's daughter. Willing to do anything to save her sister from the hangman's noose, now she is a spy… A servant. A liar. A thief. A submissive.
Masquerading as a parlor maid and entrenched in the Duke of Montague's estate, Liz is willing to risk all to uncover the secrets that would save her sister. But submitting to the duke's peculiar brand of discipline surprises her with a heady mixture of pleasure and pain. Eager to relinquish control of her messy life, Liz soon craves the rough hands of Montague and his powerful, passionate attentions. Can she succumb to the hot sting of his hand and the gentleness of his kisses without revealing her true identity and darkest secrets? And what punishment will she face when he realizes her betrayal?
Get Disciplined by the Duke at Amazon
Get Disciplined by the Duke at Macmillan
Have you read this book or another by this author? Tell us about it in the comments!
All information in this post was provided by the author and is not altered. We do this so that you the reader can decide to buy a book based on what the author says and how they present themselves and their book.