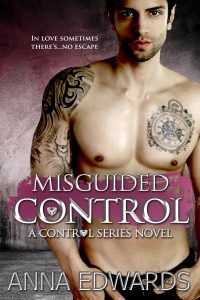 Targeted Age Group:
Steam/Violence Level: (Ranked from 1 to 5, as noted by the author): Steam Level 4
Control isn't always what it seems.
What do you see Marie Easton as? The jealous secretary whose desire for her boss
turns her into a lustful bimbo. Appearances can be deceiving though as new finance
director Callum Thatcher is about to find out. Can he help her see the true person
behind the mask she wears and how beautiful she is? Or will his attentions lead her
down a path she never thought she would go?
And what about Callum? Is he the boring Accountant that you expect him to be? Or
does he hide a secret that nobody ever expected, least of all Marie.
With a trip to Rome, and a journey to the dark side of London. Misguided Control
with take you on a love affair born out of the fiery pains of hell.
Novel contains dark storylines, hot sex with elements of BDSM and a dramatic
conclusion. You have been warned.
Also featuring a bonus story:
Loving Control
Amy and James found their happy ever after in Divided Control so what could
possibly go wrong?
Amy gives birth, that is what. Can the loving couple find an equilibrium with there
new status as parents or will it be their destruction? Throw in another blast from the
past and their world looks set to be rocked.
Are you ready to step into the world of Control?
Get Misguided Control at Amazon
Have you read this book or another by this author? Tell us about it in the comments!
All information in this post was provided by the author and is not altered. We do this so that you the reader can decide to buy a book based on what the author says and how they present themselves and their book.