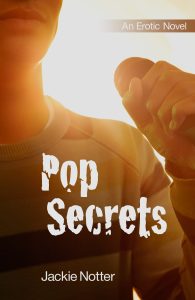 Steam/Violence Level: (Ranked from 1 to 5, as noted by the author): Steam Level 4
Amazon sale is from Monday April 30th through Sunday May 6th. eBook will be $0.99 (from $4.95) and softcover $7.95 (from $12.95).
A gay man has written straight erotica with the help of a straight female. Jackie Notter is their pen name. This book was a solid five years in the making and a complete labor of love.
Book Description:
A fast-paced, edgy escape into a secret world of sexual temptation and liberation.
Thirty-year-old Jackie Notter has had enough of men. After a disastrous marriage, Jackie has a chance encounter with teen idol Brixton Webber. For the first time in her life she finally experiences true pleasure. Jackie wants more and Brixton is happy to deliver. What begins as wild sex turns into a torrid love affair. But they live in completely different worlds, and their age difference complicates matters. How far will Brixton's disapproving manager go to keep them apart? Will Jackie's interloping "was-band" ruin everything? Is Brixton willing to alienate his young and adoring fans for the sake of love, or will Jackie remain his Pop Secret?
Have you read this book or another by this author? Tell us about it in the comments!
All information in this post was provided by the author and is not altered. We do this so that you the reader can decide to buy a book based on what the author says and how they present themselves and their book.