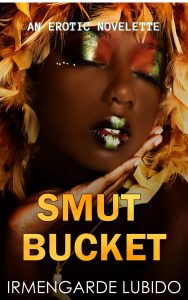 Steam Level: (Ranked from 1 to 5, as noted by the author): Steam Level 5
Nicknamed "smut bucket" after a stepping fully into the "freak zone" during an encounter with her step-father, this (not-so) average Jane spent years living up to the name with a series of wild, no-holds barred adventures. But now she's a married mother of two, re-living the good old days of her college sexploits– and attempting to conceal the secret, simmering desires of her smut bucket from her husband. Can this reformed "ho" really become a dutiful housewife? Or can she tempt her husband reach deep into the smut bucket and pull out his own inner freak?
Have you read this book or another by this author? Tell us about it in the comments!
All information in this post was provided by the author and is not altered. We do this so that you the reader can decide to buy a book based on what the author says and how they present themselves and their book.