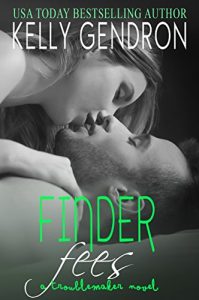 Steam: Steam Level 4
"When you find her, there are a few things you need to remember. She's smart and manipulative. She knows how to protect herself. She's beautiful and she'll use it to her advantage. But, Mr. Renton, the most important thing to remember is that she's mine."
J.T. Renton is worth millions. He wants for nothing. When he finds Sloan Mathis, he has to have her. Problem is she belongs to another, and J.T.'s not about taking another guy's girl. But the idea that he can't have her. Well, it just makes the challenge driven, J.T. Renton want his latest find that much more.
Finder Fees ~ A TroubleMaker Novel
J.T. Renton is what you might call a Finder. But the one thing this former bounty hunter no longer finds is people. That is until he's offered a finder fee he just can't resist. What J.T. doesn't know is his latest find comes with a hidden fee, one that could end up costing J.T. his well-guarded heart.
Sloan Mathis is on the run from her dangerous ex. So when she encounters J.T. Renton, it takes her a second to realize the arrogant, sexy, and oh-so-frustrating Finder has actually mistaken Sloan for her twin sister. And to uncover what's going on with her gone missing sister, Sloan lets J.T. believe that he's found what he's been looking for.
Stand Alone Series
New Cover 2/2017
Warning ~ This book contains explicit sex scenes, graphic language, and is intended for mature audiences.
Get Finder Fees (A TroubleMaker Novel): 3 by Kelly Gendron at Amazon
Have you read this book or another by this author? Tell us about it in the comments!