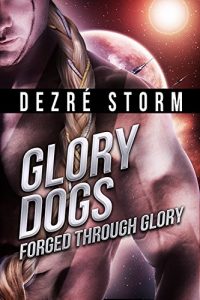 Steam: Steam Level 4
"Glory Dogs is, I believe, just about the perfect melding of high-tech sci-fi and romance/erotica. The story is deep and involved, the characters equally so. It's nearly 4 am and I just finished it. I was unable to sleep, unable to put it down once I started reading last evening. At 8pm. Yup. I was hooked." -Bethany Aan, Author
** Series contains adult situations and open sexuality. **
Yoland "Kitten" Sleek is used to living in a world of secrets. Born a mixed breed of humanoid, one engineered to kill and another made for pleasure, she explores the galaxy searching for the one source that can protect the privacy of her family: her father. The pleasure breed's illegal bloodline endangers her existence and brands her with a death sentence. Blackmailed into an agreement with the superiors of her employer, she lands in dangerous hands.
Special Operations Sergeant Brinks "Watch" Dog leads his squadron into the most challenging of planetary environments in service to the Compound Operations Research Exploration (CORE) Unit of the United Human Alliance. Bound to his Squad Leader, Jeremy "Sanction" Weaver, they scour the galaxies hunting to fulfill the missions of the CORE and save a planet's people. After the rare addition of female Enlist Yoland Sleek to the team, the secrecy surrounding her threatens the squadron's existence.
Can they keep their minds focused on the mission, or should their attentions deviate to the temptation of Yoland Sleek?
Get Forged Through Glory (GLORY DOGS Book 1) by DeZré Storm at Amazon
Have you read this book or another by this author? Tell us about it in the comments!