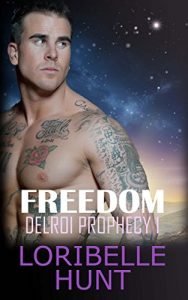 Steam: Steam Level 4
Kareena Smith, leader of the underground telepaths of Earth, waged a secret war against the Tel Group and her government as long as she could remember. Until Tel captured her, her second in command, and one of their own, a defector. After months of captivity and several failed escape attempts, the three women are rescued by a group of Delroi warriors. There's a price on her head and nothing left for her at home. Delroi offers sanctuary she can't refuse.
As soon as she's rescued, she's pursued relentlessly by sexy clan chief, Roarr Idis. She might find the kind of ecstasy in his arms she's only dreamed of, but he wants the one thing she will never give up.
Her freedom.
Delroi Prophecy takes place after Delroi Connection. Freedom is approximately 41,000 words.
Get Freedom (Delroi Prophecy Book 1) by Loribelle Hunt at Amazon
Have you read this book or another by this author? Tell us about it in the comments!