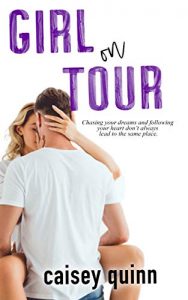 Steam: Steam Level 5
The highly anticipated sequel to Girl with Guitar.
An up and comer trying to make a name for herself…
Kylie never expected to be stuck on a tour bus with a pampered princess and her boyfriend's ex.
A troubled artist struggling to hold onto his career…
Trace thought he was finally getting to do things his way. Until the label added co-headliner Gretchen Gibson, the only person in country music with more issues than him, to his No Apologies tour.
Surrounded by tabloid rumors and people they can't trust, Kylie and Trace need each other more than ever. But the choices they make will change everything.
Because chasing your dreams and following your heart don't always lead you to the same place…
Get Girl on Tour (Kylie Ryans Book 2) by Caisey Quinn at Amazon
Have you read this book or another by this author? Tell us about it in the comments!