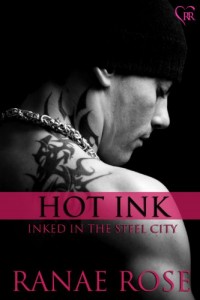 Steam:: Steam Level 4
Mina never meant to fall for her sexy tattoo artist, Eric, or to become a model. But when she's asked to pose in a photo shoot for the Hot Ink tattoo studio, she can't say no. She finally gets a look at Eric's tattoos when they're cajoled into posing together, and in a few breathtaking moments, an on-camera kiss turns the passion they're asked to fake into something very real, leaving them both wanting more.
The only problem is that Mina's not the glamour girl she looks like on the Hot Ink posters, or even in a tattoo magazine. She's only twenty-four, but being the sole guardian of her disabled younger sister has left her feeling much older. Will Eric still be interested when he gets to know the girl behind the ink and the make-up and finds out that she and her little sister are a package deal?
Book 1 in the Inked in the Steel City Series
A contemporary adult romance for mature readers only.
Inked in the Steel City Series Reading Order:
All Inked in the Steel City books feature different couples and can be read as stand-alones, if desired.
Book 1: Hot Ink
Book 2: Innocent Ink
Book 3: Dedicated Ink
Book 4: Abiding Ink
Book 5: Serious Ink
Book 6: Irresistible Ink
Book 7: Alluring Ink
Book 8: Beloved Ink
Get Hot Ink at Amazon
Get Hot Ink at Barnes and Noble
What format is this book in? eBook, Print Book
Have you read this book or another by this author? Tell us about it in the comments!