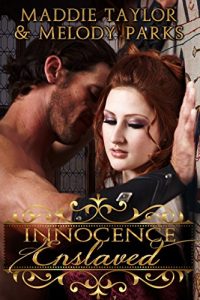 Steam: Steam Level 5
When she is abducted from her village, eighteen-year-old Emilia Selkirk's world is turned upside down almost instantly. Stripped naked, bound, and placed on the auction block, her fate seems hopeless indeed, until a tall, handsome man speaks up to bid on her. His firm, commanding voice sets her blood on fire even as the kindness of his tone warms her heart, and she dares to hope that the future may not be as grim as she feared.
Corbet Mills, a wealthy merchant, has sworn off love forever. He has seen more than enough cruelty for one lifetime and slave auctions hold no interest for him, but when he sets eyes on Emilia he is captivated. Perhaps it is the quiet defiance evident in her pose or perhaps it is simply the alluring curves of the young redhead's beautiful, naked form, but something about her calls to him, and he finds he can't leave her to the cruel intentions of the leering crowd.
Intent on playing the part of the hero and keeping Emilia safe and pure until he can return her to her family, Corbet does his best to resist her allure. He provides for her, cares for her, and guides her, even when that means taking her over his knee and administering a long, hard bare-bottom spanking to correct her behavior. Yet as he struggles to contain his growing desire to claim Emelia as his own, an old enemy takes a deeply unwholesome interest in her. In the midst of intrigue, danger, revenge, and murder, can Corbet protect the woman he has come to love?
Publisher's Note: Innocence Enslaved is an erotic romance novel written in collaboration by Maddie Taylor and Melody Parks. It includes spankings, sexual scenes, exhibitionism, anal play, elements of BDSM, and more. If such material offends you, please don't buy this book.
Get Innocence Enslaved by Maddie Taylor, Melody Parks at Amazon
Have you read this book or another by this author? Tell us about it in the comments!