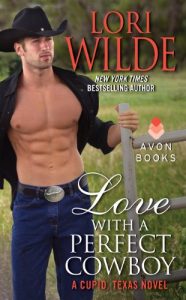 Steam: Steam Level 4
New York Times bestselling author Lori Wilde returns to Cupid, Texas, and asks the question: Do you ever forget your first love?
Melody Spencer had long-ago wiped the dust of Cupid, Texas, off her cute shoes . . . and done her best to forget the chiseled jaw and strong arms of cowboy Luke Spencer. Their families might be part of a long-time feud, but he was her very first love, even if it turned out they never wanted the same things.
But now Luke's come striding back into her life, tempting her with the memories of long, lazy evenings and hot, passionate kisses. And he has an ulterior motive—as Mayor of Cupid, he knows Melody's business savvy can help save their beloved hometown. His smooth talking might get her to Texas, but that doesn't mean he'll get her in his bed. Still, people do say love can be more perfect the second time around . . .
Get Love With a Perfect Cowboy: A Cupid, Texas Novel by Lori Wilde at Amazon
Get Audiobook
Have you read this book or another by this author? Tell us about it in the comments!