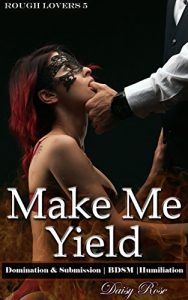 Steam: Steam Level 5
Olivia isn't prepared for what she signed up for. Not even with her extensive internet search for that could come under the topic of 'rough sex'. She thinks she's prepared for whips, handcuffs, spanking, and even some pain, considering the contract mentioned that she'll have bruises. But as she stands in the room with the powerful man, all she can think of is how much she wants to run away.
Eric thinks the fear in her eyes only makes her more desirable. He is going to keep that look on her face all night long.
Get Make Me Yield (Rough Lovers Book 5) by Daisy Rose at Amazon
Have you read this book or another by this author? Tell us about it in the comments!